Today and tomorrow, June 3rd-4th, all three Nana Files ebooks are free on Amazon. If you have not read these fun stories, now is a good time to start.
Nana and the Vampires begins the series by introducing Cindy and Becky; best friends with active imaginations and a taste for adventure. The girls are looking forward to a fun-filled summer before their 7th grade school year begins. When a new family moves into the old house next door to Cindy, the curious girls will stop at nothing to find out everything about them.
Nana and the Zombies picks up at the start of the school year as the girls are preparing for their first ever school dance. They overcome many obstacles on the road to slow dancing with their new (first and only) boyfriends, including nervous parents, disgusting germs, a raging giant, and a possible zombie!
Nana and the Howling Brothers finds the girls fresh off punishment and wanting nothing more than to avoid EVER getting grounded again. But, when the Howling Brothers moving truck is spotted in town, the lure of a strange new family, possibly connected to Cindy's neighbors, is too strong to resist. With their friend Mikenstein, Cindy and Becky go on their coldest and dumbest adventure yet.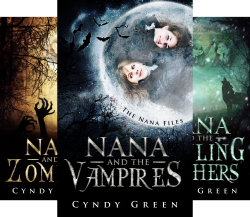 Take advantage of this limited time offer and get your copies today! And please remember to leave a review. Reviews are so important to authors, for the valuable feedback and the help that other readers get in deciding if this is the book for them. Thank you so much.