I have always been a reader. I spent the summer between 7th and 8th grade reading just over one hundred books. I didn't go swimming, or fishing or hang out with friends,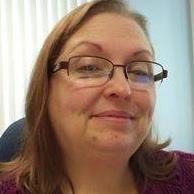 I just read. So, since I am obviously obsessed with books and (just as obvious) I have no people skills, I decided to take my love of reading to the next level and write.
My wonderful husband, Eric, has been amazingly supportive and learned to fend for himself around the house. We have six children and twelve (yeah, that's right, 12) grandchildren who are all devoted fans.
I like to combine faith, fun and fantasy in my writing; my goals are to entertain and, sometimes, share my faith.
The Nana Files Books; Nana and the Vampires, Nana and the Zombies, and Nana and the Howling Brothers are for middle grade readers (and their middle age grandparents). I also write Bible study books: Divine Appointments and The Lazy Believer.
I am very excited about my current project. I'm exploring a completely different genre, one that I love reading and I'm having the best time writing it! I'll post more details soon.
God Bless and happy reading!
Save